The History of Tri State.
Experienced and Professional.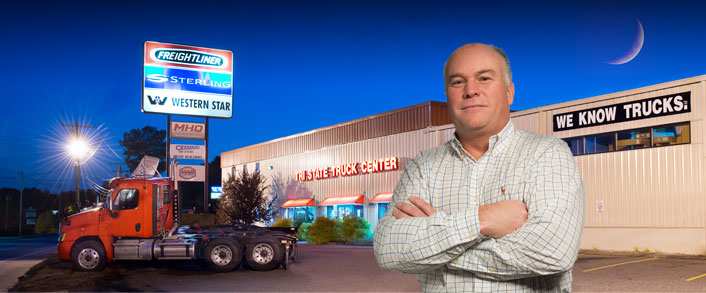 Tri State Truck Center, Inc. was founded in 1984 by Kevin G. Holmes, with a three bay service station in Ashland, MA. Quickly following, Tri State Truck Repair was formed in 1986, with one road breakdown truck and three significant customers.
In 1990, Tri State acquired the Freightliner parts and service franchise, relocated to Southborough, and was established within the trucking industry, building a solid reputation for outstanding customer support along the way. In 1993, Tri State became a full line Freightliner Trucks, Parts and Service Dealer. The company expanded in 2004 and relocated the operations to our current location in Shrewsbury, MA.
The company is staffed with professionals; trained and certified by the manufacturers Tri State represents. The sales staff listens to customers' needs and helps to provide the best vehicle for your business and price range. The service staff is trained to the highest standards in the industry and has the knowledge to service customer's vehicles using the latest technology. The parts department has the region's most diverse inventory selection and is staffed by Parts Professionals certified by Freightliner.
Tri State stands behind its philosophy, "We Know Trucks." every aspect of the business is designed with these words in mind. We'll get you on the road and keep you on the road. We know that if you're not operating successfully, then we haven't done our job.
Meet the Team
Kevin G. Holmes
President
508-753-1200
Extension - 209
John Paulik
Vice President, Operations
508-753-1200
Extension - 217
John Ritucci
Vice President, Finance
508-753-1200
Extension - 215
Chris Pentedemos
Service Director
508-753-1200
Extension – 212
Chris Marsh
Sales Manager
508-753-1200
Extension – 251
Mark McInerney
Parts Manager
508-753-1200
Extension – 220
To contact other vital members of the "We Know Trucks." team please give us a call.